Website in english - Ciencias Económicas y Administrativas
---
Department of Business Administration
---
The Department of Business Administration is the unit that is responsible, within the University, for the development of its field as a scientific and professional discipline. It fulfills its function through the conformation of an academic community oriented to the exercise of teaching, research and service work. It follows the principles given by Javeriana's Mission Statement: academic excellence, interdisciplinary breadth, and social relevance.
Our work is guided by two goals: contributing to the competitive improvement of organizations and training business administrators that excel professionally and ethically. Indeed, we understand development as economic growth driven by competitive organizations acting in line with the principles of justice, equity and transparency.
Taking into account an increasingly globalized economy, we consider the internationalization of teaching and research to be imperative.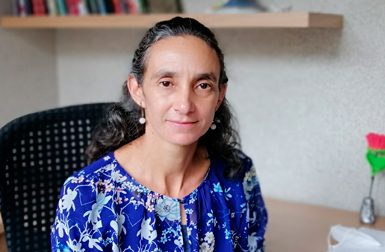 Fecha de publicación: Apr 20, 2021
Directora del Departamento de Administración
E-mail: ramosm.monica@javeriana.edu.co
Strategy and Organizations
Finance
Human Resource and Knowledge Management
Marketing
Health Administration Area
Jesús Perdomo Ortiz
Full Professor
Ph.D. & DEA in Business Economics, Universidad de Salamanca, Spain.
Areas of interest: Corporate Social Responsibility, Organizations and Peace, Innovation Management, Strategy, Human Resource Management Systems.
Tel: +(57-1) 3208320 Ext: 3199
E-mail: jesush.perdomo@javeriana.edu.co
---
Florentino Malaver Rodríguez
Full Professor
Ph.D. in Business Competitiveness and Economic Development, Universidad de Deusto, Spain.
Areas of interest: Strategy and Competitiveness, Innovation Management, Innovation Systems, R&D Policies and Management, Innovation Indicators.
Tel: + (57-1) 3208320 Ext: 3144
E-mail: fmalaver@javeriana.edu.co
---
Gilmer Castro Nieto
Associate Professor
Ph.D. in Economics and Business Management, Universidad de Deusto, Spain.
Areas of interest: Innovation and Entrepreneurship, Leadership, Growth Cycles in Organizations, Emotional Intelligence in Organizations, Business Sustainability and Quality of Service.
Tel: +(57-1) 3208320 Ext: 3152
E-mail: gilmer.castro@javeriana.edu.co
---
Marisela Vargas Pérez
Associate Professor
Ph.D. in Economics, Universidad Nacional de Colombia.
Areas of interest: Business Strategy and Competitiveness, Innovation and Technological Absorption, Technological Surveillance and Competitive Intelligence.
Tel: +(57-1) 3208320 Ext: 3144
E-mail: marisela.vargas@javeriana.edu.co
---
Andrés Luengo
Assistant Professor
Ph.D. in Economics, Southampton University, United Kingdom.
Areas of interest: Applied Economics and Industrial Organization.
Tel: + (57-1) 3208320 Ext: 3645
Email: andres.luengo@javeriana.edu.co
---
Alexander Gotthard
Associate Professor (Chair)
Ph.D. in Economics, The Ohio State University, United States.
Areas of interest: Behavioral Economics, Experimental Design, Game Theory, Industrial Organization.
Tel: +(57-1) 3208320 Ext: 3143
E-mail: agotthard@javeriana.edu.co
Javier Alejandro Rodríguez Camacho
Assistant Professor
Ph.D. in Economics, Universitat Autónoma de Barcelona, Spain.
Areas of interest: Information Economics, Innovation, Critical Theory, Cultural Industries.
Tel: + (57-1) 3208320 Ext: 5434
E-mail: rojavier@javeriana.edu.co
Website: www.jrodriguez6.weebly.com
---
Sebastián Dueñas Ocampo
Assistant Professor
Ph.D. in Environmental Studies (c), University of Colorado, United States.
Areas of interest: Corporate Social Responsibility, Business Sustainability, Socially Responsible Consumption, Social Innovation, Business Ethics, Environmental Technology Management.
Tel: +(57-1) 3208320 Ext: 3150
E-mail: sebastian.duenas@javeriana.edu.co
---
Mario Manzi Puertas
Assistant Professor
Master's Degree in Creativity and Change Leadership, State University New York College, Buffalo, United States.
Areas of interest: Creativity and Innovation, Marketing.
Tel:+(57-1) 3208320 Ext. 3159
E-mail: mmanzi@javeriana.edu.co
---
Mónica Ramos Mejía
Assistant Professor
Ph.D. in Innovation and Governance for Sustainable Development, The University of Twente, The Netherlands.
Areas of interest: Transition towards Sustainability in Developing Countries, Sustainable Entrepreneurship and Value Chains, Social Innovation, Community Strategies for Sustainable Local Development.
Tel:+(57-1) 3208320 Ext: 3146
E-mail: ramosm.monica@javeriana.edu.co
---
César Enrique García
Associate Professor
Ph.D. in Economics and Business, University of Groningen , The Netherlands.
Areas of Interest: Agent-based Simulation, Complex Systems, Computational Social Science.
Tel:+(57-1) 3208320 Ext: 3659
E-mail: ce.garciad@javeriana.edu.co
---
Julieth Vanessa Prieto Sandoval
Assistant Professor
Ph.D. in Applied Engineering, Universidad de Navarra, Spain.
Areas of Interest: Environmental Management, Circular Economy, Sustainable Consumption, Eco-labelling, Sustainability Teaching, Supply Chain Management. Tel:+(57-1) 3208320 Ext: 3170
E-mail: juliethv.prieto@javeriana.edu.co
---
David Andrés Londoño
Associate Professor
Ph.D. in Economic Theory and Institutions, Università di Roma Tor Vergata, Italy.
Areas of Interest: Corporate Finance, Applied Microeconomics, Ethical Finance, Fair Trade.
Tel: +(57-1) 320 8320 Ext: 5105
E-mail: davidlondono@javeriana.edu.co
---
María Antonieta Collazos
Assistant Professor
Master's Degree in Public Administration, New York University (NYU), United States.
Areas of Interest: Corporate and Public Finance.
Tel: +(57-1) 3208320 Ext: 3168
E-mail: mcollazos@javeriana.edu.co
---
Juan Camilo Rivera
Head of the Business Administration Undergraduate Program
Assistant Professor
Ph.D. in Business Economics, Universidad de Salamanca, Spain.
Areas of Interest: Corporate Finance, Corporate Governance and Family Businesses.E-mail: juan.rivera.o@javeriana.edu.co
---
Sonia López Cerón
Assistant Professor
Ph.D. in Finance, Erasmus University Rotterdam, Netherlands.
Areas of Interest: Microfinance and Family Finance.
E-mail: sonia.lopez@javeriana.edu.co
---
Jaime Humberto Sierra
Associate Professor
Ph.D. in Business and Management, University of Manchester.
Areas of Interest: Finance and innovation, Finance and international business, Social responsibility, economy and finance.
Tel: +(57-1) 3208320 Ext: 3137
E-mail: jhsierra@javeriana.edu.co
Julio Sarmiento Sabogal
Associate Professor
Ph.D. in Applied Finance and Actuarial Studies, Macquarie University, Australia.
Areas of Interest: Business Valuation, Financial Evaluation of Projects.
Tel: +(57-1) 3208320 Ext: 3156
E-mail: sarmien@javeriana.edu.co
---
Jairo Rendón Gamboa
Assistant Professor
Ph.D. in Economics with a Concentration in Finance, University of California, United States.
Areas of Interest: Financial Economics, International Finance
Tel: +(57-1) 3208320 Ext: 3154
E-mail: jairorendon@javeriana.edu.co
---
Rémi Stellian
Assistant Professor
Ph.D. in Economic Sciences, Université de Grenoble, France. Ph.D. in Economic and Social Sciences, Université de Friborg, France.
Areas of Interest: Agent-based Computational Economics. Finance and its Interactions with Macroeconomic Dynamics, Monetary Theory, International Economics.
Tel: +(57-1) 3208320 Ext: 3140
E-mail: rstellian@javeriana.edu.co
---
Oliver Pardo
Profesor Asistente
Ph.D. in Economics, London School of Economics, United Kingdom.
Areas of Interest: Finance, Microeconomics, Econometrics and Game Theory
Tel: + (57-1) 3208320 Ext: 5123
E-Mail: pardoo@javeriana.edu.co
Delio Ignacio Castañeda
Full Professor
Ph.D. in Organizational Behavior, Universidad Autónoma de Madrid, Spain.
Areas of Interest: Knowledge Management, Organizational Learning, Strategic Talent Management.
Tel: +(57-1) 3208320 Ext: 3148
E-mail: delio.castaneda@javeriana.edu.co
---
Carlos Valencia Garcés
Associate Professor
Ph.D. in Business Administration, Universidad de los Andes, Colombia.
Areas of interest: Human Resources and Innovation, Effectiveness of Work Groups.
Tel: +(57-1) 3208320 Ext. 3198.
E-mail: cavalencia@javeriana.edu.co
---
Margarita Castillo Mendoza
Assistant Professor
Master's Degree in Education, Pontificia Universidad Javeriana, Colombia.
Areas of interest: Responsible Leadership and Organizational Behavior.
Tel: +(57-1) 3208320 Ext: 3149
E-mail: margarita.castillo@javeriana.edu.co
Jaime Andrés Bayona
Associate Professor
Ph.D. in Psychology of Human Resources, Universitat de Valencia, Spain.
Areas of Interest: Quality of Work and Work Motivation, Background and Consequences of High and Low quality work.
Tel: +(57-1) 3208320 Ext: 3150
E-mail: jaime.bayona@javeriana.edu.co
---
Aysegul Karaeminogullari
Assistant Professor
Ph.D. in Business Administration, ¿stanbul Üniversitesi, Turkey.
Areas of Interest: Person Environment Fit, Internal and External Corporate Social Responsibility, Cross-Cultural Studies, Scholarship of Teaching.
Tel: +(57-1) 3208320 Ext: 3646
E-mail: ay.karaeminogullari@javeriana.edu.co
---
William Durán
Assistant Professor
Ph.D. (c) in Psychology (Psychosocial Dimensions of Organizational Dynamics), Universidad Autónoma de Madrid, Spain. Areas of Interest: Consumer Behavior, Qualitative and Quantitative Research Methods, Construction of Standardized Tests.
Tel: +(57-1) 3208320 Ext:
E-mail: duran.w@javeriana.edu.co
Astrid Rodríguez Cajiao
Assistant Professor
Master's Degree in Marketing, Universidad de los Andes, Colombia.
Areas of Interest: Marketing, Strategy, Creativity and Innovation.
Tel: +(57-1) 3208320 Ext: 5188
E-mail: rodriguez-astrid@javeriana.edu.co
---
Tatiana Galindo Becerra
Head of Graduate Programms - Assistant Professor
Master's Degree in Strategic Marketing, Durham University, United Kingdom.
Areas of Interest: Consumer Behavior, Experiential Marketing.
Tel: +(57-1) 3208320 Ext: 3142
E-mail: galindot@javeriana.edu.co
---
Jeremy Young
Assistant Professor
Ph.D. in Psychology (Behavioural and Clinical Neuroscience), University of Sussex, United Kingdom.
Areas of Interest: Social Marketing, Behavioral Science, Health, Public Policy.
Tel: +(57-1) 3208320 Ext: 3158
E-mail: jeremyyoung@javeriana.edu.co
Webpage: www.about.me/JeremyY
Luisa Fernanda Manrique Molina
Assistant Professor
Ph.D. (c) Business Education and Management Training, Universität Leipzig, Germany.
Areas of Interest: B2B Marketing, Innovation Marketing and Innovation Management
Tel:+(57-1) 3208320 Ext:
E-mail: manrique.luisa@javeriana.edu.co
---
Mauricio Losada Otálora
Assistant Professor
Ph.D. in Business Administration, Universidad de los Andes, Colombia.
Areas of Interest: Service Quality, Customer Experience.
Tel:+(57-1) 3208320 Ext:3525
E-mail: manrique.luisa@javeriana.edu.co
---
José Ribamar Siqueira Junior
Assistant Professor
Doctor of Business Administration (Marketing), Nova Southeastern University, United States.
Areas of Interest: Service Quality, Customer Experience, Branding, Organizational Behavior, Online Marketing, Marketing History.
Tel:+(57-1) 3208320 Ext:3142
E-mail: siqueiraj@javeriana.edu.co
Nelson Roberto Ardón Centeno
Associate Professor
Master's Degree in Education, Pontificia Universidad Javeriana, Colombia. Master¿s Degree in Health Administration, Pontificia Universidad Javeriana, Colombia.
Areas of Interest: Quality of Health Services, Formulation and Analysis of Health Policies.
Tel: + (57-1) 3208320 Ext: 5434
E-mail: nardon@javeriana.edu.co
---
Ariel Emilio Cortes Martínez
Associate Professor
Ph.D. in Epidemiology and Public Health, Universidad Rey Juan Carlos, Spain.
Areas of Interest: Hospital and Outpatient Services Administration, Health Economics.
Tel: + (57-1) 3208320 Ext: 3160
E-mail: ariel.cortes@javeriana.edu.co